Our Team
Whether it's a local move or interstate, the same thought, care and effort goes into making sure every detail is covered. Our aim is to meet the AFRA standards and code of conduct on every removal.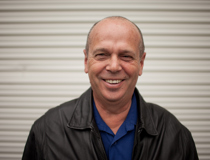 Chris Coulson Owner
Chris still works in the business on a day to day basis...
Karis Removals had its beginnings when Chris and his wife Karen, owned a furniture store specialising in quality leather lounges, dining suites and wall units. Customers were so impressed by the care taken when the furniture was delivered, they would often ask if they could have the men move their belongings when they moved house.

One truck became two, then four and with the acquisition of Gosford Furniture Freighters in 1997, Gosford Furniture Removals and Karis Removals became the market leader in removals in the area.
Chris still works in the business on a day to day basis and ensures the same quality and professional service continues. He oversees the operations and fleet control and will not compromise the quality of vehicles and products available for the men to do the best job possible.
---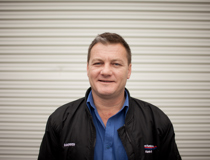 Darren Thorn Sales Manager
He takes your removal seriously and ensures the best possible outcome for you...
Darren initially worked as an offsider and then a driver within the company. He took his role seriously and was even known to practice moving and stacking furniture in his home when he first began working!

Having first-hand experience of removals allows him to accurately quote each job and ensure all details are covered. He is then able to ensure that the men doing your removal are briefed well and understand what your specific requirements are.

Darren's genuine interest and understanding of each client's needs as well as his extensive knowledge and experience in removals, allows him to convey what your needs are to those who are doing the removal. He takes seriously your removal and it's best possible outcome.
---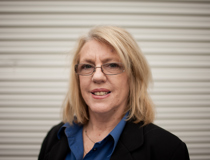 Lyn Carnovale Sales and Insurance
She understands the many stresses that come with a removal and is here to help...
Lyn is an integral part of Karis and Gosford Removals. She understands the many stresses that come with a removal and with her years of experience is able to answer and allay any concerns or queries clients have. By the time most people have completed their move, they see Lyn as a friendly voice on the end of the phone who is willing to assist them with anything they wish to know.
---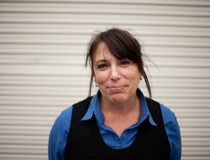 Cathie Martin Sales and accounts
Always happy to take your call and answer your questions...
Cathie is the newest member of our team. She is always happy to take your call and answer any questions you may have regarding your move. Her husband has been one of our top removalists for many years and so she has an understanding of removals and the concerns and questions you may have.
---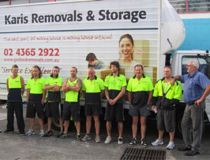 Our Men
Their enthusiasm is a positive asset in our business – one that makes our job easier and your removal a positive experience.
Our men are trained furniture removalists. Many of them have been in the industry since leaving school and have always worked with professional removalists. Over 80% of our men have been with our business for between 5 and 8 years, while many have been with us for over 10 years.

When asked what they like about their job, the men's standard answer is that there is no job like it – the work is challenging and everyday is different. They enjoy the challenge of putting away a load so that everything fits snugly and travels well. They also enjoy meeting a variety of people, seeing different parts of the country and fitness is another 'on the job' bonus!
---