Packing Your own Cartons
One of the most important parts of packing is to make sure you only pack what you plan to use in the future.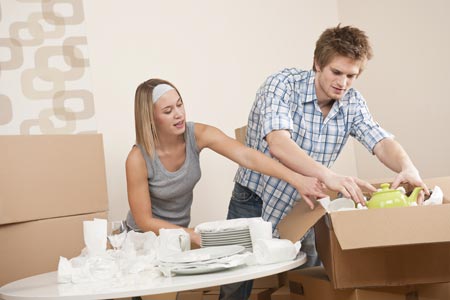 Discard what you don't need or want
So many times, in the hurry and flurry of moving, people end up moving items they have had in cupboards, drawers or their garage for years and never used them. Not only does this take up extra time packing them, as well as extra time and cost to load and unload them, it also takes you more time to unpack and then work out where to put it in your new home. Generally it will take up space you could better use for something you would use.
Have Boxes for Charity/Council pick/bin
Rather than packing everything without thinking, take half an hour to go through the room first and discard anything you definitely don't want to keep. You can have boxes or Tuff bags ready marked 'Give away' for a charity bin or pick up. Charities will only accept goods in very good condition - nothing broken, marked or electrical. A 'council pick up' is another great Tuff bag/carton for those items which are not in good enough condition to be given away.
Garage Sale
Another box in each room may be for 'garage sale' items - it's a great way to clean out your home and finally have those items you no longer use, passed onto someone else. By eliminating all those items you no longer use, you can then more efficiently pack AND unpack what you DO want.
Moving Countdown Booklet
Please contact us for a comprehensive Moving Countdown Booklet which will make your whole move much easier. If you are moving with us, it is supplied free of charge.
How to Pack
Because household goods were not made to be moved, jolted, or placed in cartons with multiple other items, it's essential that you wrap and pack carefully. When you look at the packaging that many of your belongings originally arrived in. you'll understand the importance of packing correctly.
Simple techniques such as putting crushed paper on the base of cartons before packing crockery into them, wrapping individual items in butcher's paper, stacking plates upright as if in a dishrack rather than flat are all ways to minimize breakages and ensure everything arrives safely. The Moving Countdown Booklet has more details on this...